Get Started Here
Whether or not you're ready to create a site, you should get some things in order:
1. Domain and Hosting
2. WordPress and Thesis
Let me be clear: the services I recommend on this page are services that I use for myself and for all of my clients. I support them emphatically, but I also have an affilate partnership with them. Why am I telling you this? Because affiliate marketing is a great way to scale your online business and make some passive income. Use this idea once your own site is up, for services that you believe are great and think people will benefit from!
The Absolute Essentials – Domain and Hosting
I highly, highly recommend Inomtion Hosting If you have neither domain or hosting yet, you can purchase both at the same time with Inmotion. If you already have a domain, you can purchase just hosting with Inmotion… the two items do not have to be registered by the same service. It's less important where your domain is registered than where you have hosting. Inmotion Hosting is the best hosting company I have ever dealt with. Their customer service and support is stellar, the hosting is inexpensive, and they're ranked #1 Hosting Company by CNET. I love them. I love them. I love them.
The package I usually recommend to clients is the Business Class POWER package. It's under $10/month and if you need to upgrade at any time, it's not a problem.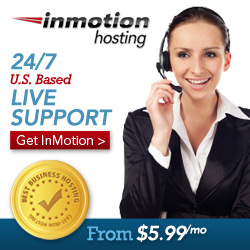 Make Your Life Easier – WordPress and Thesis
By now you've probably figured out that I build on WordPress and Thesis. So what are they?
WordPress is an extremely popular dynamic Content Management System. It is the platform that I use for myself and my clients. In addition to some out-of-the-box features, it allows for the owner of the site to maintain and update his/her site with relative ease. The best news: It's FREE! Yep, nada penny. You can download the latest version here… but if we'll be working together, no need to download — I can do that for you.
Thesis is a highly-regarded and robust framework for WordPress. I rely on Thesis for part of the development process for websites I create. I use it for my own site and recommend it to anyone who wants robust SEO capabilities (google rankings) and ease of set-up and maintenance, among other awesome features.
IMPORTANT:There are two purchase options: Regular License and Developer's License. If you want the ability to use Thesis on more than one site in the future without paying more, purchase the Developer's License — you'll never have to pay for Thesis again. And if you want to save $100, purchase it today. Thesis 2.0 is coming out any day now, and the Developer's License will be increasing by $100 when it does.